Welcome to Ginny Tarelli Photography
Hello and welcome to my website.
Based in Gaddesby Leicestershire my love of photography took hold when I moved to the countryside after a career in Criminal Law. With two small children I set about creating a new venture for myself fuelled by my passion for photography.
I am member of The Guild of Photographers and my work has been featured in Vogue Italia and Tatler magazines.
I was also lucky enough to be a finalist in the 2019 Muddy Stillettos awards for best Photographer.
I work with families, pet owners and businesses, producing stunning photography, lifestyle shoots and pet photography.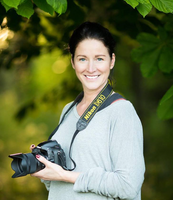 Ginny Tarelli
My work has been featured in Tatler and Vogue Italia and I am a registered member of the Guild of Photographers.
My love of photography began when I started photographing dogs at The College Garth Kennels In Loughborough. The more time I spent with the dogs the more I was able to capture their personalities which begun to shine through in my photography.
Read More
Testimonials
I have been thrilled with the photography Ginny has undertaken of my daughter Heidi and also my dog Buster. Simply lovely!

Karen Wilbourn
'Ginny is a fabulous photographer who genuinely loves her work. She took some absolutely stunning pictures of my dog and was so calm and patient. I would recommend her to anyone and will definitely have more photos done with her in the future'. 

Lucy
'We had a wonderful photo shoot with Ginny, she was very welcoming and we felt relaxed in her home. She took some fantastic photos of our little boy which we will treasure'. 

Sarah
'I took my grandson along on a photo shoot to Ginny. We were made very welcome from the start and she's a true pro, patient and enthusiastic to engage my wriggly bottom grandson. Ginny got some cracking photos and I would highly recommend her and will one day return for future photos.' 

Tracy
'Ginny was fabulous on our family shoot, incredible photos that captured our children's personalities and at a great price too. Would definitely recommend. Thank you.'  

Julia